BOO!!!  Happy Halloween eve, and happy SITS day to me!!!!  I have been waiting on the edge of my seat for this day to come, and here it is in all its glory!
In case you are like "what the what?" and wondering what I'm talking about…let me clue you in.  The SITS girls are an active and thriving community of women bloggers that reach out to each other in so many ways.  It might be sharing blogging tips, asking questions in their forum, offering blogging opportunities and above all else commenting and spreading the love!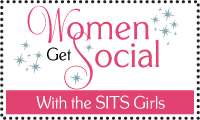 Anywho!  I am
so happy
that you decided to click on over to Spoon Fed Baby.  I started blogging about homemade baby food recipes and tips for
making your own food
.  Soon after I started (almost 11 months ago!) I realized that it filled my creative void that was empty after I stopped teaching to be a stay at home mom.  I now like to write about
glowing bathtub lights
, my
favorite snuggles
,
cloth diapers
, and
sneaky veggie muffins
.  Random huh?
Thanks again for coming by…seriously I will be checking my google analytics by the second, I'm so excited – it will be my form of trick or treating.  Or, I mean, I'm cool and relaxed…
See you around the bloggy world (smile) and have fun stealing your kid's candy!!  And East Coast friends, please stay safe…!