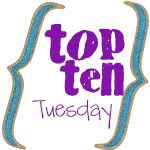 Yes, new mom's have a LOT to learn.  Here are a few things I have been schooled in over the past 5  months of being a mommy.
Don't wear glasses while feeding cereal to your little one if they have just learned how to blow raspberries.
A church is very echo-ee, especially when everyone is silent. (and your baby is babbling)
A jumper is a God Send.  Especially when you have a lot of cooking to do.
Footed pajamas are the cutest thing ever.
If all else fails: nurse.
Eating at a restaurant (or anywhere for that matter) is no longer relaxing.  Instead it is a timed race to see who can finish first: mom or dad.
Nursing is the only time I can catch up on TV shows or reading.  Pick one. 
The water bill WILL go up after having children.
Spit, snot, and other fluids have never been cuter.
I can love someone so much it makes me misty eyed.
This post it linked to Top Ten Tuesday.